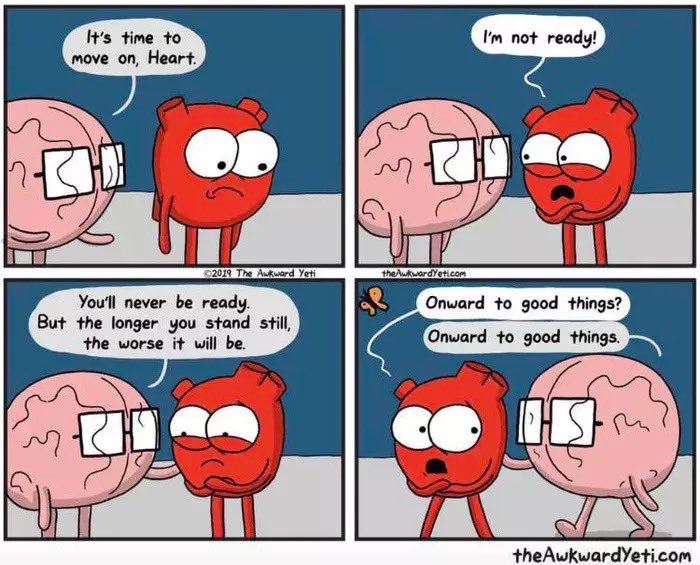 pic.twitter.com/G6L2jrMSTR— the Awkward Yeti (Nick Seluk) (@theawkwardyeti) June 4, 2022
It is the end of my 9th year teaching, and I'm not only wrapping up the school year, I'm also wrapping up my time at this school. I decided that I needed a change for a variety of reasons. Even though a part of me did not feel quite ready to go (as so wonderfully illustrated by Nick Seluk above), I took the leap and now I'm going to be at a new school next fall, teaching a different type of curriculum (still chemistry though)!
When I left a place in the past, it was generally obvious that it was time to move on. After graduating high school and college, the next steps were clear. My first job out of grad school was basically as an admin assistant for a professor, and when he left for a different university that was my cue to leave too, and I transitioned into teaching.
9 years is the longest I've ever been in one setting, and so it is a strange feeling to leave. I'm still in the same city, in the same school district. This leaving is very much my choice rather than an "natural" life transition, and most days I feel like it's the right one. I will be in a different school environment, hopefully one that allows me to better live out my values as an educator and just as a person. But that doesn't mean that it's easy to leave.
I've put down deep roots in this school community. The process of uprooting myself has been painful, even as I look forward to what comes next. I've been in a variety of leadership roles over my time at this school, and it's strange (but also really a relief!) to think that I won't be responsible for so many things next year. I've had some heartfelt conversations with colleagues, who I've loved working with, and it's hard to leave what you know and are comfortable with to adventure on to the unknown (or at least, the less known).
This year was also, to be quite honest, really amazing in the classroom. I know that wasn't true for all or even many educators, especially in this transition back to "normal" school. But I built some wonderful relationships with my students, and it felt like it went better than it's ever gone before. My students gave me many little notes as I'm leaving, and it's really hit me that in particular, it is the small things that they're taking away from my class. (Turns out it's unlikely that they're taking away a deep love for stoichiometry, hah. Though several of them said they learned that they can be good at science this year and that is always a win!) The random Peardeck question that I posed to start the day. The STEM spotlights I tried out this year for all of the different heritage and history months. The way that I didn't cold call them because, unsurprisingly, they hate it.
I tried the "I wish my teacher would…" and "I wish my teacher wouldn't"… frames suggested by @AlexSVenet and WOW do kids hate cold calling. I also hate cold calling so I really never do it and these responses just reinforce that decision.

— Heidi Park (@heidijpark) August 31, 2021
I almost never do cold calling as a teacher because I hate being cold called myself, but I wonder if it made a difference in the classroom dynamic to explicitly name that I would not be cold calling them this year because so many of them said they hate it. Several students pointed out the way that I listened to their suggestions (even the "silly" one about giving stickers for participation) and how that made a difference because… their teachers often don't actually listen to their suggestions. And I am both happy (that my classroom was a space where they could be their authentic, sometimes ridiculous, teenage selves) and sad (that they don't have those spaces everywhere).
There are moments when I still wonder if this is the right move, if leaving was really necessary. But I felt that I couldn't do anything more to push for change at my current school, and I had tried really hard. There are moments when I wonder how I'll transition to a new school community and build new relationships with both the adults and the students. As a rather introverted person, I still remember how my first year at this school, one of the security guards was convinced I didn't like her because I never said "good morning", when really I was just in a half-awake daze early in the morning. It took me a long time to expand my circle beyond the folks I worked with on a daily basis. I wonder about how I'll build relationships with a different student body. And yet, when I find myself with these doubts, I go back to the idea of "unconditional positive regard" that Alex Shevrin Venet first introduced me to.
Unconditional positive regard is a stance I take in relationship to my students. The message of unconditional positive regard is, "I care about you. You have value. You don't have to do anything to prove it to me, and nothing's going to change my mind." … This care infuses all of my teaching choices, from personal interactions to learning design. Importantly, unconditional positive regard stands in opposition to savior mentality and deficit thinking.

-Alex Shervin Venet
It seems like such a simple thing to say – that students (and colleagues!) don't have to prove their value to me and that their value comes from their inherent worth as a person. And yet, in my past interactions with folks, I know that I've definitely made my regard conditional – what did or didn't you do for me? These days, I think more and more about how to infuse unconditional positive regard into all my interactions, even for those that I might feel anger and frustration toward. 
As I wrap up, I'm reminding myself how much I've learned and grown over the past 9 years. I've learned how valuable it is to just speak up, to ask questions and point out how policies and procedures were unclear, nonexistent, or harmful to students. I've learned that I can create positive feedback loops with my colleagues, where our actions mutually encourage each other to keep pushing for change. I've learned that I could bring ideas and leadership capabilities, both with and without formal leadership roles. I've learned to recognize how dehumanizing some of the "typical" classroom policies and procedures are for students, and I've learned that grace & flexibility are more important than enforcing deadlines. 
Folks have been asking me if I'm excited for the next steps, and in many ways I am. (In other ways, I'm a bit terrified of the unknown, hello from an Enneagram type 6.) But it's been a mix of both grief and excitement, as I process the good that I have experienced here and the anticipation of something new. I am thankful for these slow days at the end of the school year that have allowed me the time to stop and genuinely reflect on things. And it is a blessing to have good things to grieve as I leave a place that's felt unsustainable for a long time. 
I am not quite sure what the future holds. Students and colleagues have said that they hope that my new school is everything that I want. I hope for that too, but I know that working in public education these days is a mixed bag even at the best of times. But at the very least, I will be reminded that I can do new things, and I will continue to grow. So, onward to good things.